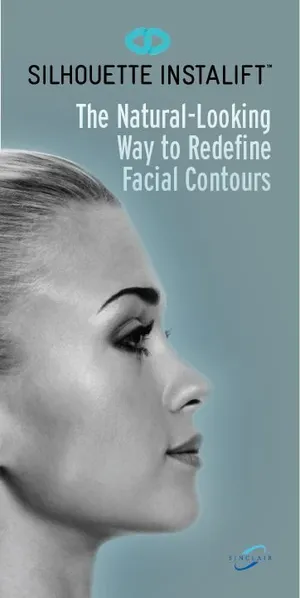 Dr. Kristyna Lee is excited to announce that we are now offering Silhouette InstaLift™, the lastest facial rejuvenation procedure.
Sagging skin is one of the major contributors to an aged and tired apprearance. Silhouette InstaLift™ is a simple in-office procedure to re-contour your face by lifting the deeper layers of your skin for a more youthfull appearance.
Our physicians have received comprehensive training in this breakthrough anti-aging treatment. We can answer all your questions about the procedure and create a treament plan to ensure you achieve the natural-looking results you desire.
The Silhouette InstaLift™ is a brief, in-office procedure. The treatment does not require general anesthesia, and typically takes 45 minutes. You will see results right away and the recovery time is minimal.
The unique Silhouette InstaLift™ sutures are naturally absorbed by your body over time, while stimulating the production of collegen to aid in healthy skin renewal for natural-looking, long-lasting results.
Call Affiliated Dermatologists now for a consultation at 973-267-0300.