Botox® Improves Skin Appearance In Morristown, NJ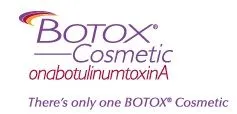 Botox® Cosmetic is the only FDA-approved treatment to improve both moderate to severe frown lines between the brows and crow's feet in adults. Everyone has unique expressions. We move our facial muscles in a repetitive way and over time those repetitive movements cause wrinkles and fine lines. When you start to experience the signs of aging, Botox® is available to diminish unwanted wrinkles and creases in your face.
What is Botox?
Botox® blocks the release of a chemical called acetylcholine, which triggers the muscle contractions that create wrinkles. Botox® essentially paralyzes the muscles and stops them from contracting. Results from Botox® gradually begin over three to five days and are not complete for two weeks. Botox ® lasts three to six months.
How Does it Work?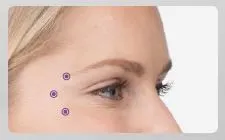 Botox® cosmetic targets one of the underlying causes of frown lines and crow's feet - the repeated muscle contractions from frowning and squinting over the years. Botox® cosmetic temporarily reduces this muscle activity so you'll begin to notice a visible smoothing of these lines.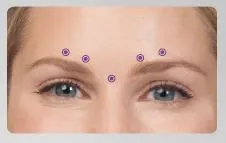 For temporary improvement of moderate to severe crow's feet, your doctor will inject Botox® cosmetic into the muscle surrounding the sides of your eyes - called the orbicularis oculi muscles.
For temporary improvement of moderate to severe frown lines, your doctor will inject Botox® cosmetic into 2 muscles - the corrugator and procerus muscles.
Botox ® cosmetic treatments can be used to improve:
Worry lines in your forehead
Lines between the eyebrows
Smile lines
Laugh lines from nose to mouth
Crow's feet
Will I look overdone?
Botox® cosmetic is a technique-sensitive treatment. You should not lose the ability to show expression when you are treated by someone who is licensed, trained, and a medical expert in facial anatomy. It is important to talk to your provider about the results you want from your treatment.
Does the treatment hurt?
Some patients report that being injected with Botox® feels like a pinch. Our providers will use ice to numb the area. If you are concerned about discomfort, your provider can apply topical numbing cream before administering your treatment.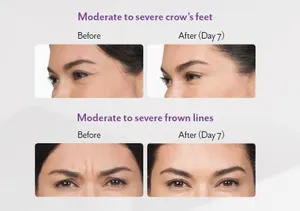 Am I a good candidate?
Generally, anyone who is healthy with fairly shallow fine lines or wrinkles may be a good candidate for Botox® treatments.
Most patients require retreatment to remove wrinkles and lines as they begin to reappear. However, after each injection, the wrinkles become less severe as the muscles are trained to relax. This procedure does not require anesthesia and usually takes just a few minutes to perform. Botox® treatments can help both men and women rejuvenate and revitalize their appearance.
For more information on Botox, call Affiliated Dermatologists at (973) 267-0300 ! Serving Bridgewater, Mt. Arlington, and Morristown, NJ.