Juvéderm® XC Treatment In Morristown, NJ

Juvéderm® XC is an FDA-approved injectable gel used to inject into the facial tissue for the correction of moderate to severe facial wrinkles and folds. Juvèderm® is a nonsurgical treatment that instantly smoothes facial lines that form around your nose and mouth. These include the parentheses lines, vertical lip lines, corner lines, and marionette lines. Juvéderm® XC lasts up to 1 year with only one treatment. This treatment is customizable to ensure the smooth, natural-looking results you want.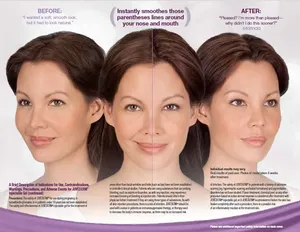 What is it?
Juvedérm® injectable gel is a colorless hyaluronic acid gel that contains a small quantity of local anesthetic (lidocaine) and is injected into the facial tissue to smooth wrinkles and folds, especially around the nose and mouth. Hyaluronic acid is a naturally occurring sugar found in the human body. The role of hyaluronic acid in the skin is to deliver nutrients, hydrate the skin by holding in water, and to act as a cushioning agent. The role of lidocaine is to reduce the pain associated with injections into the skin.
What does it do?
Juvedérm® temporarily adds volume to facial tissue and restores a smoother appearance to the face.
What will it accomplish?
Juvéderm® will help to smooth moderate to severe facial wrinkles and folds. Most patients need 1 treatment to achieve optimal wrinkles smoothing, and the results last about 9 months to 1 year.

Do the injections hurt?
Some discomfort may occur during and after the injection. Juvéderm® injectable gel contains an anesthetic to reduce injection site pain.
Lillian's journey with the Juvéderm ® fillers.



For more information about Juvèderm Voluma® XC, call Affiliated Dermatologists at (973) 267-0300 ! Serving Bridgewater, Mt. Arlington, and Morristown, NJ.